Creative, demanding, constant, bold with his ideas and eager to learn and experience new ways of working and innovating. Searching for new cocktail bar sensations. He combines his passion with another, as a community education officer in a youth detention centre.
'As a child I was fortunate enough that both my brother Nacho in Málaga and my uncle José Miguel in Algeciras had the best bars and clubs in the area, so I was able to combine my studies with odd weekends at the bar and earn some money, and so I started to play around with cocktail-making.
Years later I started reading and meeting renowned figures in the industry, such as Alberto Pizarro, and even Ferran Adriá who motivated me to bring what he does to cooking little by little to the cocktail bar 'with all due respect to the magician'.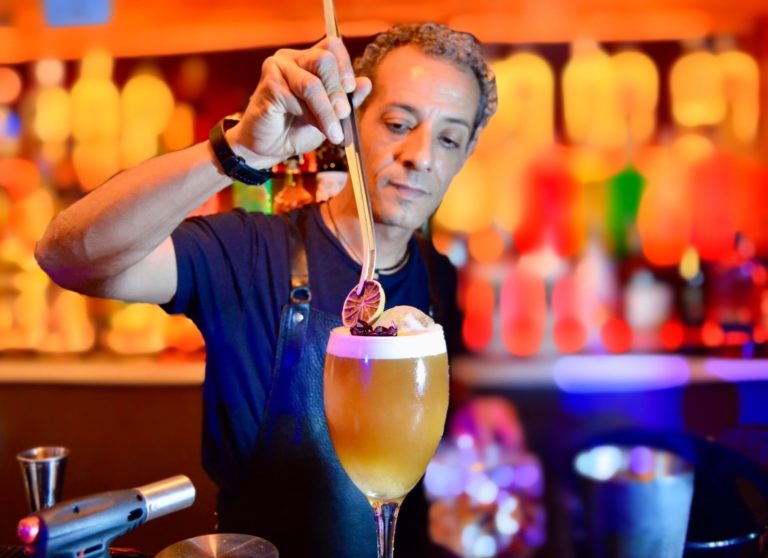 "Whatever it takes, they will put obstacles in your way, they will also help you, but never forget to be yourself and remember that, in order to achieve your goals, you always have to improve".
I think my strength is my love for what I do, my perseverance and my desire to learn more and more every day.
Forest South is located on the beach front in Algeciras and has a chill out terrace area for people to enjoy their favourite cocktail overlooking the sea.
For the most sybarites of comfort, the interior of the restaurant is furnished with large leather armchairs and has a night-time atmosphere.
I am naturally in charge of making cocktails, but guests can also enjoy hookah and bottle services.
Terrace, sea, cocktails, hookah, friends…
What more could you ask for?
I have been with you now for seven years, where I have found a new family.
Teichenné Family has put together a great team from different corners of Spain. Each one of them trusts this brand and that says a lot about Teichenné.
It makes life easier for the bartender and benefits the bar's costs thanks to quality raw material at a more than competitive price.
Level Gin Reserve is an atypical, spectacular and elegant gin.
Gin L'Arbre is one of the best gins I've ever tasted.
The Tabú Rum is very good, and I love the Blanco for cocktails.
All gins from the Kinross Gin range are great fun in cocktails, and fresh and popular in gin and tonic.
The Strawberry Cream with Tequila is very successful and has shaken up the market.
Sailing, regattas, the sea, kayaking, paddle surfing, surfing, biking, hiking, rollerblading, skateboarding.
At a concert in Andalusia, Julio Iglesias ordered a cocktail shaker for the VIP area, and when he tasted my Mojito, he told me that in 30 years in Miami he had never tasted a better one.
The future of cocktail making
Classic cocktails fused with Mixology, and the creativity of each bartender with a great presence of Vermouth, maintaining the gin but increasing the amount of whisky.
Someone told me once: fight for your dreams whatever it takes, obstacles will be put in your way, they will also help you, but never forget to be yourself and remember that, to achieve your goals, you need to keep on improving.