Creator of spirits and the necessary machinery, in particular stills. For the past few years, he has been setting up micro-distilleries.
'I am in love with and romantically involved with my job. Over the years, I have realised that seriousness and constancy are values that provide security and future opportunities. Since I started out in the drinks industry, first as a winemaker and then as a drinks manufacturer, I haven't stopped working. I am best at creating spirits and the necessary machinery, especially stills. To this end, I have been setting up micro-distilleries for a few years now'.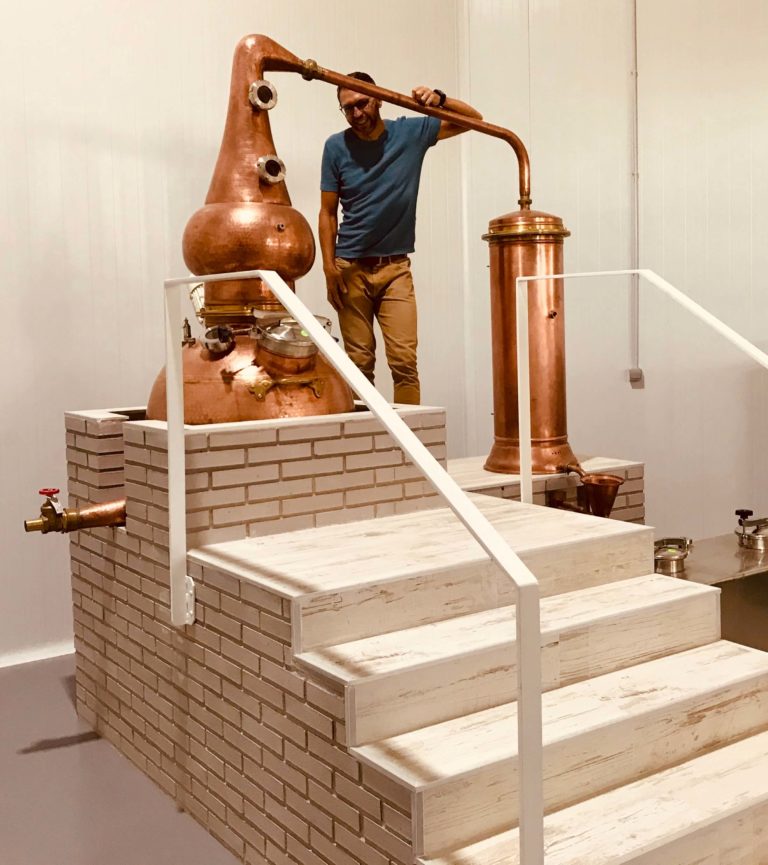 "Bartenders are liquid chefs."
Good morning Javier Pulido. How would you introduce yourself?
A simple person, a fighter who reinvents himself every day. I am extremely competitive but fair with my opponents. I really enjoy creating in the cuisine industry and learning new jobs. I don't rule anything out in these fast-paced times we are living in. And, as a friend, I am faithful to the very end.
What are your qualities and what do you need to improve on?
I'll start with the flaws. I'm quite forgetful and I think, over time, I'm getting ever more so. However, I have learned to see forgetfulness as a virtue: I live the present with much more intensity, and I glance at the future out of the corner of my eye; the past doesn't matter to me. I also need to be tidier (that's what they tell me at home), but I'm learning.
As for virtues, I must be good at a few things, if students and customers are anything to go by. As a teacher, I try to be very didactic and convincing. A dog trainer once told me that I transmitted a lot of strength and security. Another of my qualities is my ability to create and predict the future, to anticipate fashions and trends. But it doesn't come for free. I spend a lot of money on travelling and picking out trends.
What sets you apart from other professionals in the industry?
There are many professionals who are better than me, without a doubt. But by analysing each one's capabilities, there is a detail that gives you more points. And it's the way you are. That's each person's DNA. Therefore, there are professionals who are excellent in their field but as people, they leave much to be desired.
Then there is another detail that personally sets you apart: your commitment to your customers and your ability to deliver what you have promised. That, over time, makes customers come to you, not the other way around. This, in Spain, which is full of intruders and opportunists, is an up-and-coming value. And I'm not saying that I don't have faults, but I do try to learn from them and improve. As I said, I'm very competitive.
What is your view of the cocktail industry in Spain and around the world?
I see the industry as better than ever, to be honest. I have the privilege of knowing the owners and employees of the best cocktail bars in Spain, and some of these establishments are among the best in the world. Here we have a tremendous potential but as always, we look and admire what is on the 'outside'.
I think a major revolution is occurring. It's in the search for flavour in different spirits. Also, in the rest of the ingredients, because professionals have realised that their public are fascinated when they are surprised with extreme flavours, in general. And if it has large doses of talent in the composition, in the balance, all the better. But, again, this ability to balance is only available to a precious few. It is a 'gift' that cannot be studied. The same is true in cooking.
'Bartenders are liquid chefs'.
As a footnote, I would say that Spain could be the world's cocktail capital. We just need to believe it. And it's no joke, the key is our excellent raw material and great professionals. Put this together and I'll tell you what you get: EXCELLENCE.
What makes your certificate of advanced distillate studies different?
Currently, I no longer teach it because I realised, on the one hand, that there were no new students (I have been training professionals for almost 20 years) and that my other job, as a consultant in spirits and wine, demanded more of my time.
Right now, I am working as a consultant, and I am collaborating with Dstila, where we are running courses on the production of different spirits. And, above all, formulating a whole load of recipes. It is a joy to have a place where we can all enjoy this job. I'm talking about the romantic side.
What drinks will become fashionable?
Undoubtedly, gin will continue to be the mainstay, although new brands will emerge, better worked and with soul. However, the two star drinks will be: malt whisky and rum, both from micro-distilleries, as an added value. Rum is being manufactured in Northern Europe at a rate never seen before. And so is whisky. Ireland already set its stall out 10 years ago (buying a huge stock of barrels), as did Scotland. However, in Spain, there are already quite a few adventurous people ageing their own recipes, some of whom are my customers.
So, whisky will be flooding the shelves in a resounding way.
And there will be other drinks that I can't reveal, but they will be incredible, absolutely innovative.
How did you get to know Teichenné?
Through my friend David Galera, who now works in Lafuente's shops. Although I must mention some friends in the distillery, such as Gerard and Mariano, now retired and with whom I still maintain a close friendship. They are great professionals, of whom there are hardly any left, who help you whenever you need it.
Which Teichenné products have surprised you the most?
I have some catching up to do as it's been a while since I've tried their new products. But I liked the latest gin formulations and some fruit creams. Also, their agave versions. Teichenné understood, some time ago, that they had to move with the times and take their creativity to a new level.
Would you recommend Teichenné to industry professionals?
Personally, they are a solid company, within their niche market, who produce excellent value for money products. They have a quality standard that over the last eight years has been shaped for the better. And it shows. Proof of this is that they are overloaded with work, bursting at the seams, which I am very happy about.
When representing a brand or company, what values should it have?
The quality of their products and the honesty of what they say. Professionals are fed up with so many lies and manipulation. The problem is that they are tied hand and foot because these brands are the ones who end up hiring them as brand ambassadors or salespeople. Together, we are doing ourselves a disservice, frankly. I'm too romantic to allow this to happen. I like the truth. But seriously, is it that necessary to keep banging on about fantasy and not let the truth prevail? So much magic goes into the production that I don't understand this other facet.
If you had the chance to see yourself in five years' time, what would you like to see?
In five years, I would like to speak perfect English, have my own distillery and school where I could teach everyone what I have learned. Likewise, I would like to create a space where hospitality professionals can be trained in order to add value as a country and to promote quality tourism. Ah!
I forgot, I would like to be mayor of my town, I think I have very good ideas to add a dash of freshness to present times, but I will let that be a secret between me and the readers.
A hobby that takes up your free time
Currently, I really enjoy road cycling. I also love digital drawing. And, lately, studying English because it is the only language in distillation.
Finally, what advice would you give to youngsters looking to start in the industry?
It is not difficult to find top quality schools in cocktail-making or any other field. You can find out everything you need on social media nowadays (go to forums, ask questions). Then there's travelling, seeing other countries, other ways of approaching the job. And, with all you have learned, start your project up. In Spain, we are lacking fresh initiatives, companies. That's what has happened to us, we have focused the vast majority of the country on the service industry, and if it stumbles, we collapse.
Thank you very much Javier Pulido, we shall keep collaborating!