Trainer, consultant, and organiser of events related to the cocktail and bar world. Passionate about the world of botany, applied to the cocktail industry.
How Pepe Orts describes himself
I like to be known and recognised as a botanical mixologist. Although my relationship with mixology is relatively recent, it's true that I have a family connection with the plant world and, since I started in the cocktail business, botanicals, citrus fruits, vegetable condiments, plants, flowers and fruits have been and will always be part of my take on mixology.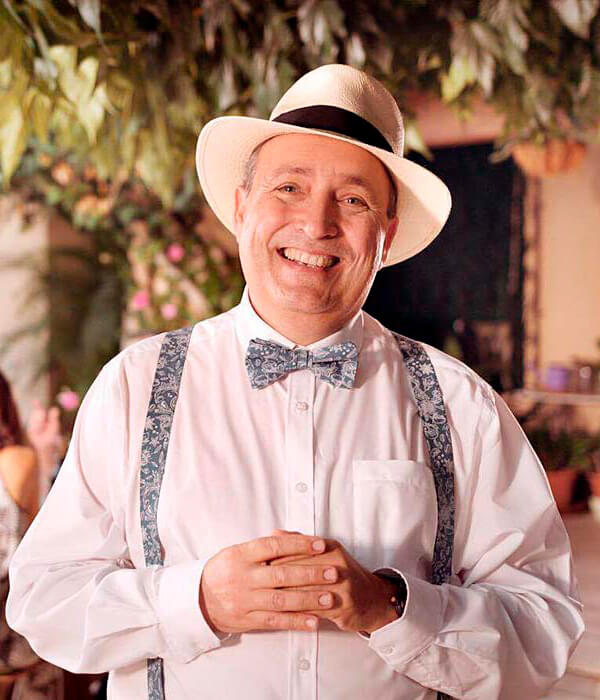 I'm like a chef who can't cook without spices. I can't conceive of any cocktail without some kind of botanical enhancement.
Currently I combine my work as a trainer, consultant, and organiser of events related to the cocktail and bar world. I am also a consultant for companies who are looking to add quality drinks to their range, and this requires me to use my creative talents, which is what I like the most. Developing a drink from scratch, with a blank canvas and an open mind, excites me.
Finally, and over the years, I have further developed my career as a consultant and, currently what fills my daily work is training companies and businesspeople and helping them to develop profitable projects in the bar world. Believe it or not, many businesspeople don't know if their bars are profitable, and they don't know the amounts they are making or losing either. Analysis and consultancy work is essential in such cases.
And to finish, I am currently designing a series of online courses that I hope to make available in 2021
I shall differentiate between two parts:
BEFORE COVID-19: The cocktail industry was an orphan of a revolution and was too tied to its origins and other golden ages.
There's too much reverting to the classics, too many proposals based on speakeasies, on vintage aesthetics, and too much dependence on 20th century cocktail-making and on the dictatorship of the big brands.
If you are not a cocktail specialist working in Madrid or Barcelona with large volumes, you are practically a nobody, which is unfair, because there is a lot of brilliant work being done in many places unknown to the general public.
We forget that the new century will demand new formulas for ever more demanding customers with an ever-greater cocktail culture. Today we demand culture, health, gastronomic proposals and spectacle in a glass.
In my opinion, a worldwide revolution is waiting to happen in the bar world, similar to the one that occurred in the 90s in cookery with Ferran Adrià.
It's true that we'll never get another Ferran Adrià, but sooner or later a similar genius will emerge in cocktail-making who will turn everything on its head. The good news is that in Spain there are a lot of top-quality mixologists, and I think that, like we did in cuisine, we will also be at the forefront of the cocktail world. And I, in particular, would love to be there to enjoy that moment.
POST COVID-19: Despite the devastating effect that COVID-19 has had on the industry (not only ruining lots of establishments and professional careers, but above all damping the enthusiasm of many to continue in an industry stigmatised for no reason), I see a time of many opportunities as soon as the current pandemic allows us to be fully back to work.
It is true that this industry will have to come back from the ashes, but precisely for that reason, anyone who has something to say will have plenty of room to do so. It's time to get our heads down and create new projects because I'm sure that the public and customers will respond very well in three- or four-years' time.
Of course, you have to be creative, original and move with the times. I'll give you a hint if you like: healthy, non-alcoholic and low alcohol cocktails. That's the way it's heading.
I got to know Teichenné at the many cocktail events we attended throughout Spain and Europe, and I always found their product portfolio to be very coherent and of a high standard. From the moment I found Level Gin I loved it as a very honest gin, and when I discovered their Reserve, I became aware of how a distillate could evolve without losing its essence, offering endless opportunities. Then I fell in love with the rest of their references as soon as I started working with them: Gin L'Arbre, Kinross, Olave, Tabú and their Ultra Premium liqueurs. I love working with such high-quality products. Today they are a benchmark brand in each of the places where I work as a consultant, and the businesspeople I advise are delighted with the performance and quality of these distillates and liquors.
It is a very family-oriented company in its dealings and in its day-to-day work. I am proud to belong to the 'family'.