Hard-working, creative, irreverent and feisty. Simultaneously, he is very lucky to work in the world he loves and where he can manifest the creativity and passion within him. Whether serving drinks in bars for events, online on the YouTube channel VMixoleg, or as a F&B Manager in hotels
Hard-working, creative and irreverent (in the good sense of the word). Friend of my friends and feisty. I am very lucky to be able to share my passion (cocktail-making) and bring a smile to the faces of my customers and friends.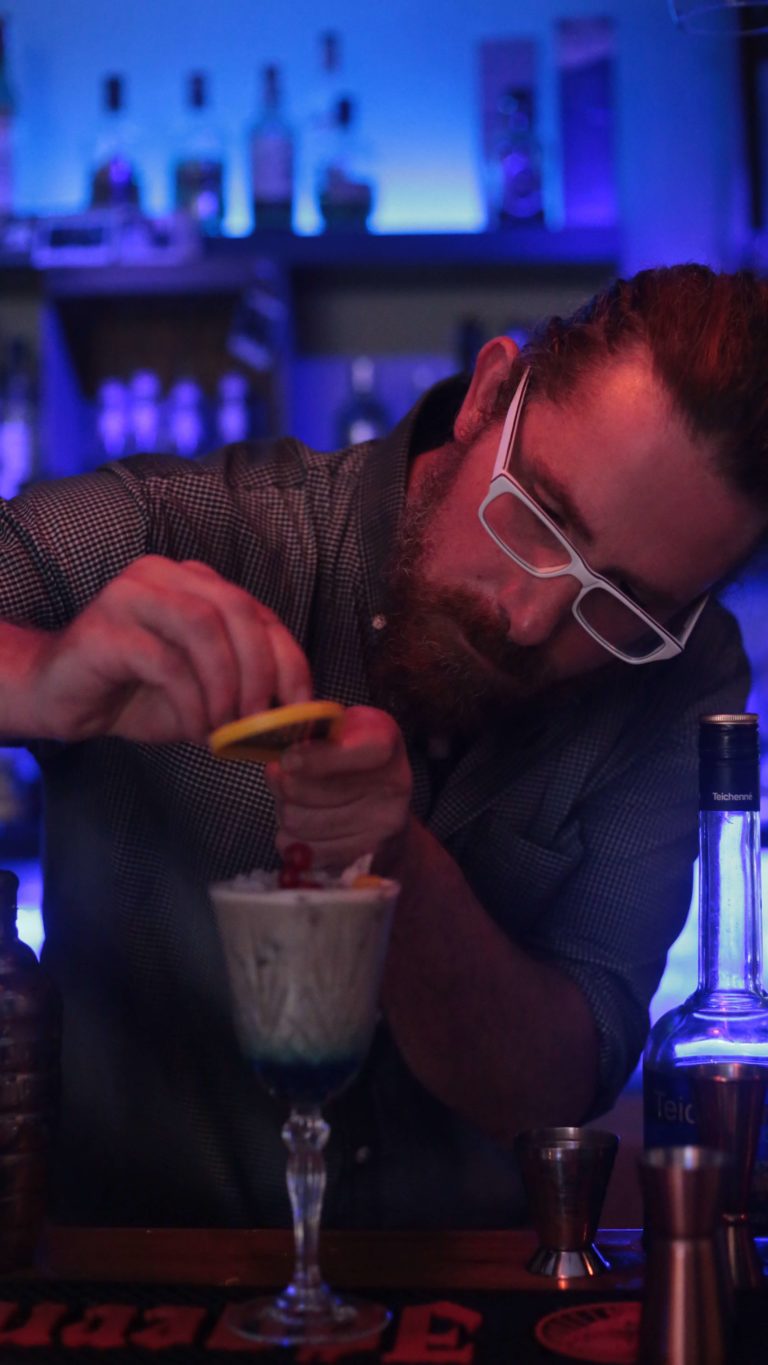 "I don't think anything we do is random. It's creative work, but it's better to always have a good base in classic cocktails and, as you grow, to improve your knowledge to be able to create".
I really enjoy playing with fire and smoke! In one of the first competitions I took part in, I stumbled upon 'Aladín', a cocktail smoker! Within a few days, I had it on my bar! And the truth is, I love it! Whether to add smoke notes to cocktails, whiskies or rums, or to add a touch of spice.
The level found in Catalonia is fantastic. Nowadays, one can find some worthwhile schools specialised in cocktail-making, although the way others train is questionable. From my experiences, whether in Europe, Asia or South America, I have been able to see for myself that we do a lot of interesting things here and that we are an example for other bartenders to follow.
Diego Cabrera, Sergio Padilla, Alberto Pizarro… they are a huge deal! Andreu Estrinaga and Paolo Lazarinni are two great professionals who have taught me a lot about cocktail-making and how to improve as a person. I think it is important to turn our heads and look back to learn and be humbled. Nowadays I believe that there are references that are volatile, fictitious, and that have been created for the economic interests of certain brands, and young people just starting out believe that this is what the cocktail industry is all about. Anyway, that's why I say 'look back'.
I think my strong suits are my extensive knowledge of insects, botanicals and exotic fruits, and the elaboration of homemade cocktails with a dash of crazy and provocation. These elements help me to elaborate different combinations with various nuances and creative flavours.
I've always had an issue with two cocktails: the Manhattan and the Cosmopolitan… I get them mixed up! Luckily I have a good team, and when someone orders a Cosmopolitan, they always say the key word 'cranberries', and that helps me out.
Your time at Glops Cocktail Bar
It was a very important time of my life. My first bar, where I was able to break out as a bartender, mixologist, etc. Where I had a great team by my side that will always have a place in my heart (Sara, Pol, Xavi, Marc, Carlos…), and the customers who were always there to enjoy my crazy concoctions… But like everything in life, one has to grow and look for new goals. Currently and after spending some time in Asia, I find myself facing new challenges, the counters, which are an extension of that bar, my very first steps in the online world, and being an F&B Manager, looking for responsibilities and other ways to incorporate my knowledge into the cocktail business.
I was very amused by the cultural difference in tastes and flavours between us and people in Beijing, where you have to adapt everything from classic cocktails to cigarettes, because for them everything was 'very strong'. They are used to milder flavours.
The Gin and Tonic craze has opened many doors. For me it has been the best introduction to the cocktail industry, as most people feel tempted to try different types of products. The rise of non-alcoholic and signature cocktails has been very significant, but the rum and tequila trends are also noteworthy. However, the star combinations in summer are still the Gin and Tonic, the Mojito and the Margarita.
Teichenné and #TeichennéFamily
The response and support received has been great! They have been very close from the first day, and the friendliness and simplicity of the people who work there make it easy to approach this brand, seeing as one of Teichenné's values is humility and product care. What bartender doesn't like these qualities?
And specially the support. Although I have not yet met many of my colleagues in the Techennéfamily in person due to distance, it is a great family where you get a lot of support, not only professionally, but also on a personal level, which is, for me, the true meaning of cocktail-making.
The wide range of products and their quality help us, the professionals behind the counter, to have more tools to be able to create and delight our customers. And together with the buzz around Gin L'Arbre and the new image of Kinross gins, a further element of excellence has been added to the mix.
Gin L'Arbre! I can't stress it enough, it is a gin that, well, I recommend everyone to try it! Because the balance of its botanicals won't fail to impress. There are many very good gins, but Gin L'Arbre is passion, it is homeland, it is land, and it is love for creating distilled spirits.
Dogs are my passion, but I have recently discovered another way to express my creativity: painting. And to my surprise, I have had the opportunity to have an exhibition in Milan and even sell some of my work! The world is crazy! Mixologist and painter!
Cocktail Competitions / Contests
Cocktail competitions are a good way of showcasing yourself, but above all they are a very useful tool for learning new techniques and trends. However, lately the trend I'm noticing is rather sad. The personal effort of many "bartenders" is not always valued, but rather the brand image is valued more, or what a place spends, forgetting the small hard-working bartenders who make great drinks, but who are not renowned and do not make the lists of the best cocktail bars. In recent years, I think there has been a shift in interest from the big brands. Thus, many brands have turned a wholesome event into a means to sell and sell, without taking into account the efforts made by many people who work in this world and have much more skill than those who, as I sometimes say, believe they are some sort of 'Cristiano Ronaldo'. 
Values, humility, hard work, responsibility and training. I believe that nothing we do is random. It's a creative job but it's better to always have a good base in classic cocktail-making and, as you grow, strengthen your knowledge and create. That way you'll be happy and make whoever walks through the door happy. Cheers!